The subvariant Omicron strains account for about 85 per cent of all cases, according to COVID-19 wastewater trackers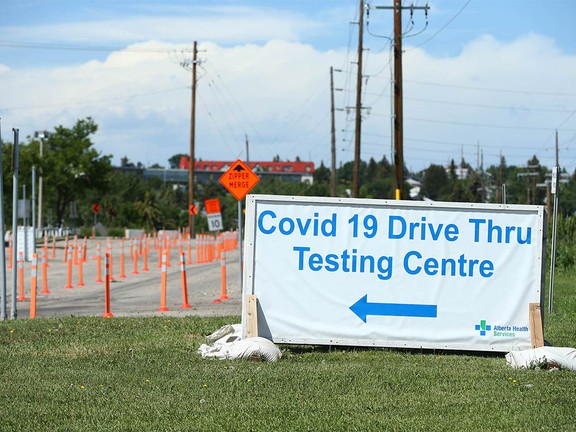 Article content
COVID-19 wastewater trackers say the highly contagious BA.4 and BA.5 subvariants are becoming the dominant strain in Calgary and could cause a future increase in infections.
Article content
Casey Hubert, an associate professor at the University of Calgary's faculty of science, said the subvariant Omicron strains account for about 85 per cent of all cases, according to their tracking. A month ago, BA.4 and BA.5 accounted for about 15 per cent of infections, while BA.2, a subvariant that caused a spike in cases earlier this year, accounted for 85 per cent.
"The big spike around March, that was a BA.2 spike; the big spike around New Year's was a BA.1 spike. It would be awesome if we don't get a BA.5 spike but we know BA.5 has displaced BA.2," said Hubert. "We are watching closely to see what will happen next."
Wastewater tracking out of the University of Calgary shows cases have been steady over the past several weeks, with a high data point July 4 that has not been replicated. Hubert said cases don't appear to be increasing or declining at a rapid rate at the moment, but said it is not too early to brace for an impending wave of COVID-19.
Article content
The latest subvariants have been found to be highly infectious, but symptoms do not appear to be more severe than previous strains.
"It's not clear to me why we wouldn't be spared (from a spike). Our policies are probably similar to other places," said Hubert.
The BA.4 and BA.5 subvariants are driving surges in infections in Ontario and Quebec, with Ontario announcing this week it would expand fourth dose booster shots of COVID-19 vaccines. In that province, anyone over the age of 18 who received their first booster shot at least five months ago will now be eligible.
Albertans are currently eligible to receive a fourth dose of vaccine if they are 70 years of age or older; First Nations, Métis or Inuit and 65 and older; or living in congregate care settings. Those 12 and older who require additional doses to meet international travel rules are also eligible. Immunocompromised Albertans aged 12 or older are also eligible.
Article content
Lisa Glover, a spokeswoman for Alberta Health, said the province is reviewing the latest guidance on rolling out fourth doses of COVID-19 vaccines and an update will be provided in the near future. She said Albertans can expect to see an increase in transmission of COVID-19 and other respiratory diseases in the fall, and it is important for people to consider their individual risk factor.
"This can mean wearing a mask at times when transmission is higher, or when gathering with loved ones who are at higher risks of severe outcomes," said Glover.
Glover said Albertans are encouraged to get every vaccine dose they are eligible for.
The latest numbers from Alberta Health posted online show there were 1,361 confirmed cases of COVID-19 in Alberta recorded between July 5 and 11. In that time frame, hospitalizations dropped to 552, down from 568. The number of COVID-19 patients in intensive care fell to 16, down from 21.
University of Calgary wastewater tracking can be found at covid-tracker.chi-csm.ca.
— With files from Canadian Press