'This is a competition but there are also ceremonial aspects to it; taking care of our regalia and our feathers and how we carry ourselves'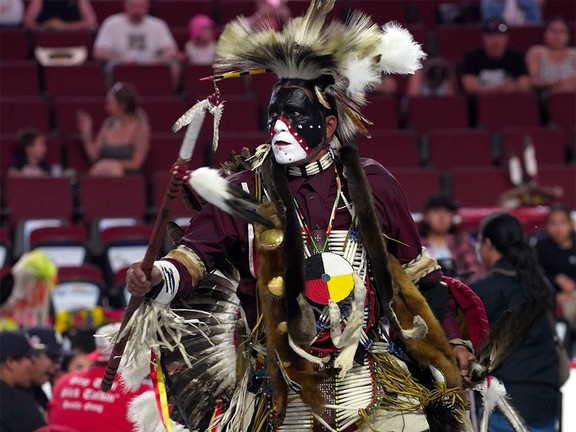 Article content
The shine and jingle of Indigenous regalia filled the Saddledome on Tuesday for the first Calgary Stampede Powwow in the venue.
Article content
While powwows have taken place at the Elbow River Camp since Guy Weadick — the founder of the Calgary Stampede — and the First Nations of Treaty 7 collaborated with Stampede events, this week's event is the first of its kind in the Saddledome, with $175,000 in prize money up for grabs.
Indigenous dancers and singers from across Canada and the United States are competing over three days.
"We always have competition at the camp," said Cheryl Crowchief, the powwow co-ordinator. "We have powwows as a celebration to invite non-Indigenous, non-native, people to come to celebrate with us, learn from us, share our culture and ask questions."
The competition is broken into several categories, including ladies' jingle, ladies' traditional and ladies' fancy, men's buckskin, men's traditional, men's grass dance and men's chicken.
Article content
The powwow will end with the men's chicken because the dance originated in Treaty 7 territory, where Calgary — or Mohkinstsis — is located, said Crowchief.
"If you look at a prairie chicken you see the movements that they make, and with the chicken dance, you see them mimicking those movements. Every category has a story behind it. And feel free, when you're at a Powwow, to ask them their story and where they originate," said Crowchief.
The Saddledome was glistening with colourful regalia Tuesday afternoon as the competition began. Crowchief said the dancers take pride in their regalia and cherish the time put into the beadwork and design.
Cree dancers Raylene Hunter and her daughter, Ryley, who travelled from Treaty 6 territory to participate in the powwow, said they are thrilled to dance at the Stampede.
Article content
They and several other family members were helping each other don their regalia before the powwow started.
"I was dancing before she was born," Raylene said. "I carried her while I danced so she was born to the circle, and before she could walk we had her regalia."
Raylene said they enjoy competing as a family and support each other during competitions.
"This is a competition but there are also ceremonial aspects to it; taking care of our regalia and our feathers and how we carry ourselves," she said.
The competition's judges were selected by two people with extensive powwow knowledge. Each dancer's scores are tabulated and those at the top of their categories will compete for the prize money.
Crowchief said she's thrilled more people are able to watch the powwow in the Saddledome.
Article content
"Visitors are getting the full powwow celebration effect. They get to feel the way we feel. First Nations people, when we're at a powwow, once the drums, the grand entry and prayers start, it's totally mind-blowing and gives us such a happy feeling," said Crowchief.
"It gives us our strength."
Melodie Ayoungman, the head judge for the women's categories, said her family has a long history at the Stampede.
"My grandparents have been here since 1912," said Ayoungman. "People from all over North America, Canada and the United States, come to powwows and this is . . . a huge event and it's really great for the people of Calgary to witness."
Entry to the Calgary Stampede Powwow is free with admission to Stampede Park and runs from 3 p.m. to 6 p.m. on Wednesday and Thursday.
The children's categories will still be run in the Elbow River Camp on Wednesday, Crowchief said.
"I honestly implore and invite everybody to come over to the camp. Enjoy our festivities, enjoy our artisans and our traditional food at the bannock booth," she said.